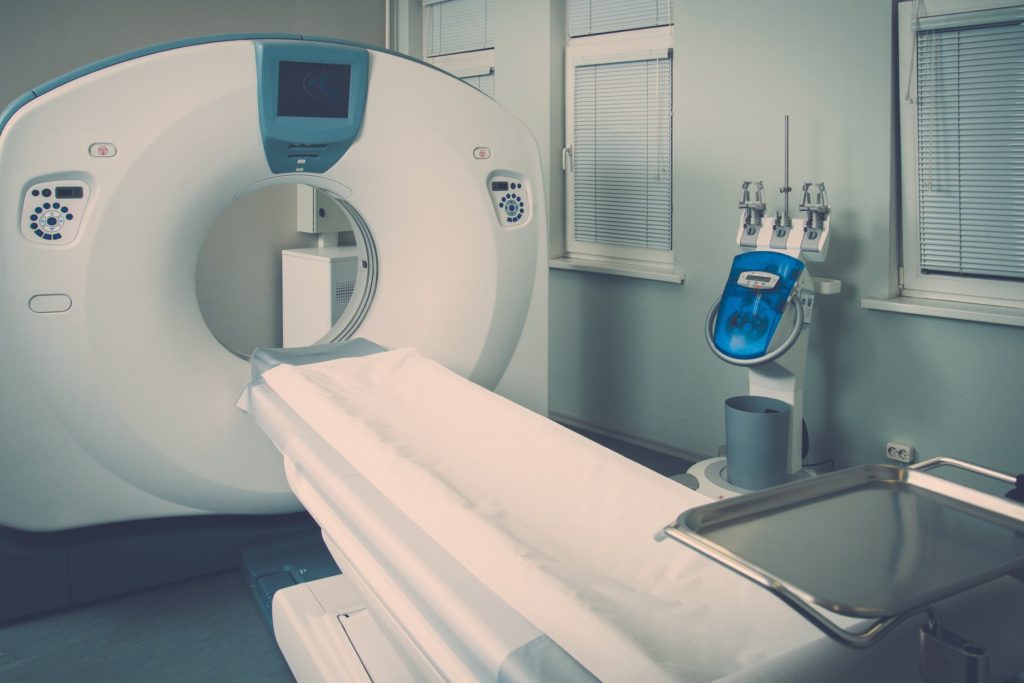 Refurbishment of CT scanners:
The cost of refurbished CT scanners is convincing compared to the price of a brand-new machine. Refurbishment can be either mechanical or cosmetic or complete refurbishment. Mechanical refurbishment involves verifying the working condition of the CT machine, perform maintenance or upgrades of the parts and do a quality analysis to match the OEM specifications. Cosmetic refurbishment involves enhancing the appearance of the scanner by touching up the outer surface, repainting, polishing, filling scratches, sanding, etc.
The cost of a used CT machine varies based on the type of refurbishment done. There are other factors as well which influence the overall cost of a refurbished CT scan machine.
Factors that add up to the cost of a refurbished CT scanner:
Refurbished CT scan machines for sale vary in cost based on the slice count. Nowadays a 64-slice machine is ideal for most scans. For high-quality vivid images of the Heart and lungs, more than 128-slice counts are used.
Below are the average costs of used CT scanners based on the number of slices:
16 to 40-slice CT starts from $90,000 and can go up to $200,000
64-slice CT ranges between $120,000 and $390,000
128-slice CT and above starts from $225,000
Another important piece of hardware that has a high price is an X-Ray tube. Purchasing a used CT machine means that an X-Ray tube had already done some scanning. Once the scan limit is reached, it has to be replaced. Replacement of this tube costs between $15,000 and $200,000. Because of this reason, it is advisable to buy a second-hand machine with much tube usage left.
If you don't want to put all your money on replacing the tube, some vendors may offer an X-Ray tube coverage for a little added price. The coverage can be full or prorated.
Though you are buying a second-hand refurbished product, the price may be dependent on the brand and the OEM specifications. Some famous brands are Toshiba, Philips, Siemens and GE.
For certain types of scans such as cardiac, lung, etc., additional software may be required. If you are customizing the second-hand CT machine, the installation of these software can cost between $15,000 and $100,000 depending on the medical requirement.
Whether you get a fully refurbished machine or with only mechanical or cosmetic upgrades, it is good to opt for a service contract to have some liability. Service contract or warranty can be up to the first scan, 30 days, one year, three years or more. Your overall cost of purchase of a refurbished CT scan machine varies based on the type of contract you make.
Cost of additional accessories:
You may be required to install CT accessories such as Injectors, ECG monitors for cardiac scans which may cost between $5000 and $20,000 or lasers in case of cancer scans ranging from $8000 to $40,000. For treating overweight patients, you may need to include a bariatric table. Workstations are needed to analyze the images and to operate the CT software, which can cost from $2000 to $30,000 based on how old the workstation is and the slice count.
Installation and Training:
Transportation of the refurbished machine from vendor warehouse to the target medical facility and then installation may add up to $25,000. Not just that, if the scanning center has new employees operating the CT machines, then proper training should be given to them. Trainers may be paid up to $5000 per day.
Installing a CT machine requires sufficient space, a cooling system and air conditioning and electricity/power requirements. Power bills and rent are some continuous expenditures until the usage of the purchased machine.
Looking for the best yet cheapest refurbished CT scan machines for sale? Then Amber Diagnostics will be the best fit. We have a great technical and warehouse team who professional do the refurbishment procedure without compromising the OEM standards. Don't worry about the cost. We are here to help you with a pick that satisfies your budget and your scanning requirements. Our warehouse is distributed across the world so we ship and install the units with at most care.