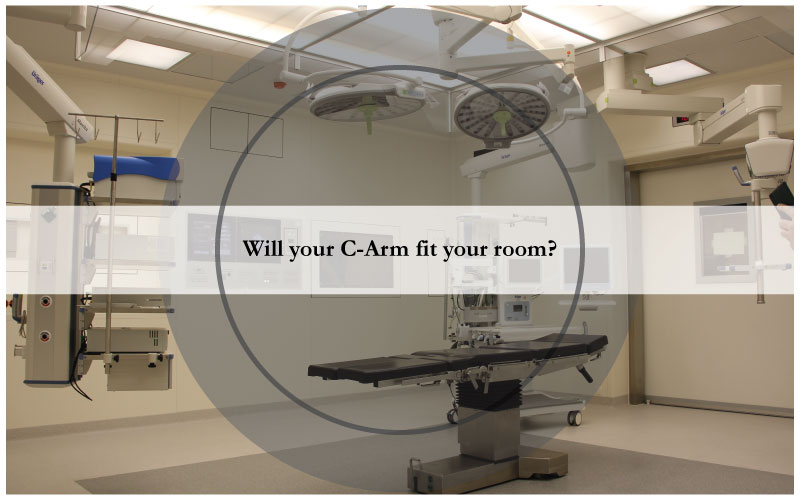 Amber USA is an organization that is relatively familiar with the installation of multiple C-Arm units. With that being said, one the most common mistakes that Amber USA had come across included customers buying a C-Arm unit that wasn't sufficient for the room and vice versa.
Amber USA has a made it a point to discuss the information on what size room would be required for customers based on their C-Arm purchase.
Consider the following:
• C-Arm base width.
Make sure that the correct measurements are taken for the width to ensure that the C-Arm can pass through all doorways that the equipment is supposed to move through– not merely just the central doorway to the facility.
• Monitor Cart.
Typically we can find that the monitor cart is around 64 inches tall and is at 27 inches in width. Using this information might help you with your initial planning and ensure more comfort in your final setup.
• Maximum C-Arm Extension.
At the C-Arm's maximum length, it is around 102 inches. This extension is all the way from the back cover to the top of the tube housing. This measurement is the most consuming space that the C-Arm will ever need to be extended to. If your intended room can house beyond the mentioned amount, your facility can be guaranteed more comfort when moving the C-Arm around.
• The table.
While there may be some accessories added to the table, the typical measurement can be described as 24 inches by 84 inches.
With this information in mind, you would be able to minimize a great deal of unexpected turns in assigning space for your new equipment.
If you require more information on housing your new C-Arm, contact Amber USA for more details. Amber USA also issues a variety of used and refurbished medical imaging equipment at an affordable cost.
Contact Amber USA now if you're looking for MRI, CT, C-Arm, or X ray equipment for sale.