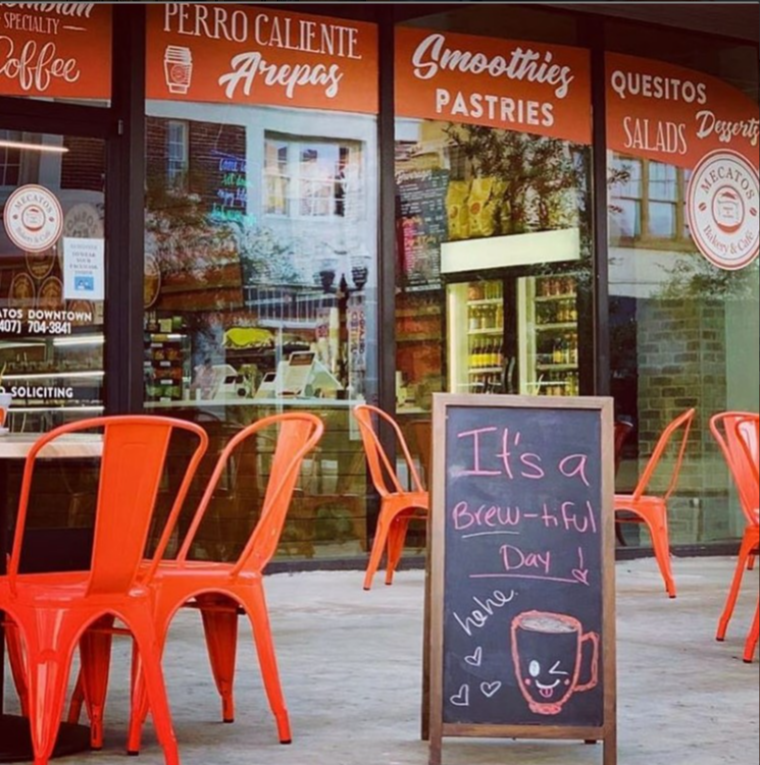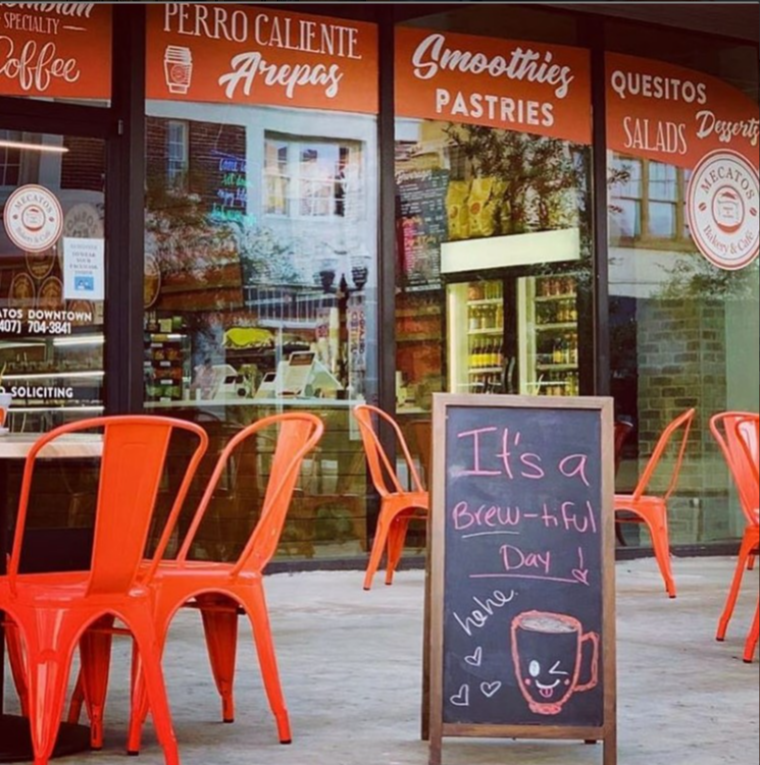 Situated in downtown Orlando, Mecatos Cafe; is a family-owned business built on a passion for Colombian food and culture. If you are looking for a relaxed and friendly atmosphere to catch up with friends or take a moment out from your busy day, the team at Mecatos Downtown is waiting to serve you.
What to Expect at Mecatos Downtown?
The team serves a delightful range of superb coffees and refreshing smoothies, as well as a range of delicious hot and cold food. However, the real reason to visit is to try some of their revered Colombian and Latin American delicacies. From classic empanadas to traditional cachapas and a range of mouth-watering sweet treats, there is something on the menu to appeal to all tastes and diets. Every dish is served with the care and passion you would expect from a family-run business.
Where to Find Mecatos Downtown?
Situated at 20 N. Orange Avenue, Orlando, the restaurant could not be better located. A short walk from the tranquilly of Lake Eola, Mecatos is in the heart of Orlando's Central Business District. Surrounded by a range of shops and offices, there is no better place to take the weight off your feet. Open from Monday-Friday, 7 a.m.-5 p.m., and 8 a.m.-5 p.m. at weekends, the location makes it the perfect spot for that early morning breakfast bite, a quick break from work, or a casual catch-up with friends. For those unable to stop by in person, delivery is also available with UberEATS, DoorDash, and GrubHub.
What Is the Atmosphere Like at Mecatos?
The promise of a welcoming, relaxed, and comfortable environment is exactly what customers visiting Mecatos Bakery and Cafe; can expect. Reviews regularly talk of "excellent food," "great value," and "superb friendly service." No matter your taste, culture, or ethnic background, you can be assured you will enjoy your time spent at this spacious and modern cafe;. With a relaxed yet vibrant atmosphere, Mecatos is a must for any foodie.
What's on the Menu at Mecatos Downtown?
The team at Mecatos has created a delightful menu of incredible Colombian and Latin American delicacies as well as international favorites. Whether you're tempted by an indulgent hot chocolate with a delicious Pan de Bono bread, or you prefer a lighter tropical salad, this is a menu that has something for everyone and will keep you coming back for more.
Pop by for breakfast and kick start your day with something from the great value combo menu. Offering a range of bites, such as the tasty breakfast arepa or mix-and-match empanadas, coupled with a drink, there is no better way to start your day. Their specialty Colombian-brewed coffee is a fantastic accompaniment to any selection.
Alternatively, stop by for a spot of lunch, where you may be tempted to try one of the famous fired cheese tequenos or a hearty Colombian hot dog. If you are popping by with a larger group, the range of platters is always a great choice and a brilliant way to try a range of flavors; the hot bite platter is always popular.
Or finally, if you're in search of a sweet treat, why not turn your eye to the incredible array of desserts and pastries? The indulgent chaja cake with peaches, topped with vanilla frosting, cherries, and merengue, will be hard to resist. Or for something smaller, select a cannoli, which come in an array of tasty flavours.
The team is committed to using only the freshest and highest-quality ingredients in everything they serve and is always bringing fresh flavours to the menu.
Don't Forget to Join the Rewards Program
If you are in the area for longer, Mecatos runs an excellent rewards program. Simply download the app from the app store and earn two points every time you spend. Returning visitors can redeem their accumulated points across a range of the delicious items on the menu.
Why Is a Visit to Mecatos a Must?
There is nothing better than a great meal to lift your spirits and bring friends and family together to share memorable moments. So, if you're looking for great flavors, superb atmosphere, and seamless service, ensure you add the increasingly popular Mecatos Downtown to your list of must-visit cafes.