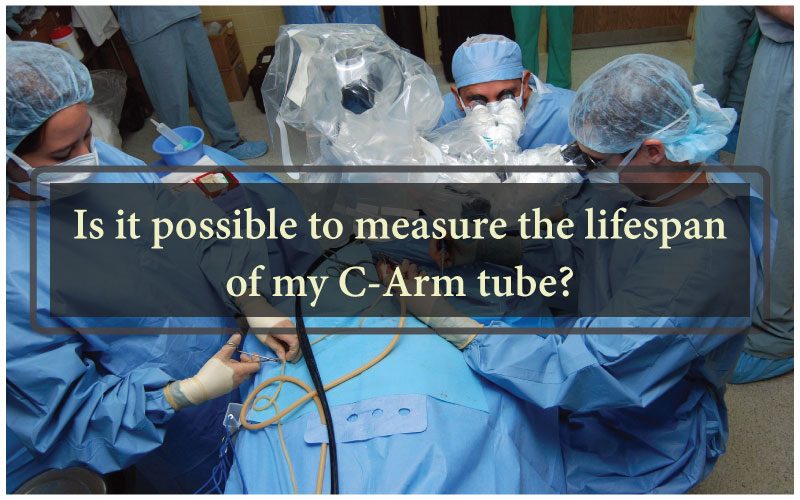 While many medical facilities that are equipped with C-Arm devices, often wonder about the lifespan of their C-Arm tubes, it is unfortunate that you can't exactly know.
However, there are a few things to be able to do in light of it.
When purchasing a C-Arm Tube or a replacement tube, it is found that most people often ask about the age of the tube. While this information is useful as a general reference for what the tube as gone through, it wouldn't be able to specify anything definitive.
Amber USA's engineers have observed that the early years C-Arm 9600 tubes are well within specifications for use. This is mainly due to the rotating anode tube design. This design was devised to improve heat dissipation and the longevity of the overall tube as opposed to stationary anode tubes. While logic would state that an older tube is more likely to deteriorate and perform under expectations, there are far too many variables that state otherwise.
Another factor to consider is the System's Odometer. Behind the C-Arm device, you may notice an odometer. These meters could dictate a number of things. In the case of 9600 and 9800 C-Arms, they can indicate the number of hours that the system has been powered up. However, there is no direct connection to the use of the tubes on this meter.
Since there isn't a definitive indicator of how long the C-Arm tube will last, you may have to consider an adequate servicing procedure.
If you have more questions regarding your C-Arm device, contact Amber USA for further information.
Amber USA, in addition to their efficient services, also issues a variety of other high-quality used and refurbished medical imaging equipment of the last technologies such as a portable digital x ray machine for sale, open MRI machines, CT scanners, and much more!