Buying a diamond for your engagement ring might be challenging for the first time. There are endless diamond inventory and plenty of diamond retailers that you find around. So, how to know whether or not you are getting them under your budget?
These days, more and more people are buying diamonds for their engagement rings online. Although there are many advantages, it is daunting to start the process on your own. To make things easy for you, Rare Carat has intuitive solutions under its sleeve.
Rare Carat is a diamond marketplace that allows you to search and compare a variety of diamonds from reputable retailers. With the right tools and knowledge, Rare Carat helps you make an informed decision when it comes to buying cheap diamonds.
Continue reading the post to learn more about how to buy cheap diamonds and other aspects of this online platform.
Rare Carat: An overview
Because of incredible marketing efforts, diamonds represent love and are meant to be a woman's best friend. The sheer pressure of buying a stone without getting ripped off and the lack of transparency when buying one is what made the founder create Rare Carat.
Referred to as the "kayak of diamonds", Ajay Anand conceived the idea of a marketplace where buyers can buy diamonds of their choice. This unbiased marketplace is the best place for shoppers planning to buy diamonds.
Besides the website is powered by virtual reality, data science, artificial intelligence, and blockchain technology. An average customer looking to buy a diamond for that perfect engagement ring has to conduct a series of research before making the purchase. And, they have a good reason for it as well.
Buying diamonds is one of the most expensive purchases falling right behind buying a house or a car. Apart from that, several factors in the diamond market can influence the price of diamonds. The factors include clarity, color, cut, carat, and fluorescence.
On top of that, the market is filled with misleading information. With gemologists paid in commissions or other kinds of sales incentives to sell certain stones, the market is even more volatile for the customers.
Therefore, most online retailers don't think about what actual customers want. To make every customer experience the bright side of buying diamonds online, Rare Carat offers an intuitive platform optimized for customers' needs. In addition, Rare Carat reviews have high ratings on Google and Trustpilot.
How to use Rare Carat the right way to buy diamonds?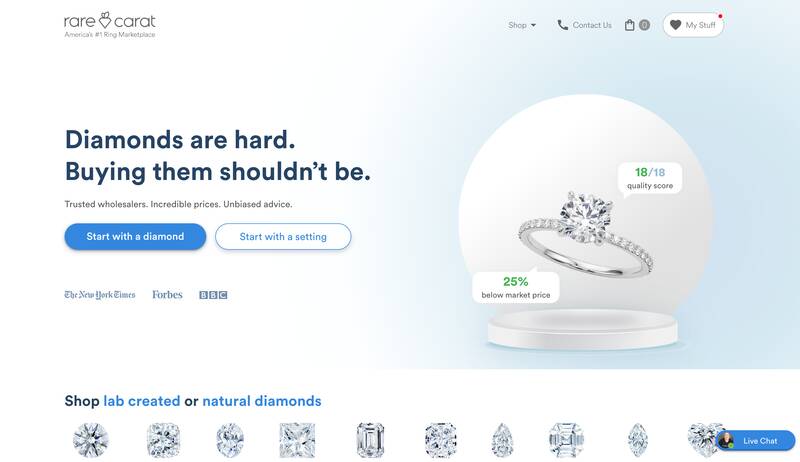 Are you looking for a big center stone? Or, do you care more about getting a great stone rather than having a good design? Whatever it is that you are looking for, Rare Carat is the one-stop destination for all your diamond needs.
It is an impressive marketplace that comes with a price comparison database. As such, Rare Carat is the right place for you to buy diamonds. Even if you are on a budget, the site helps you buy cheap diamonds for your engagement ring.
However, the company doesn't sell diamonds by itself. Instead, it shows the collection of diamonds sold by several reputed stores. That way, you can start by entering your 4Cs alongside budget requirements. After that, Rare Carat shows you the results that match the specifications.
The results include the retailer and the diamond's carat, clarity, cut, and color grades. Apart from that, it displays the grading laboratory, fluorescence, and other important parameters. However, it shows you the price of specific pieces as well.
To help you make a proper decision on what to buy, Rare Carat tells you whether the diamond listed might be right for you or not. In short, it helps you to narrow down your choices to get the best deal.
You can scroll through the results and click on diamonds that you find more interesting. As such, it will take you to the diamond retailer's site directly. On entering the site, you will get more detailed images of each stone. Besides, you can get an idea of the perfect ring setting designs.
Furthermore, you can get all the information that you need when it comes to refunding policies and warranties. Hence, Rare Carat gives you the best experience when you are planning to buy cheap diamonds for your engagement ring.
Despite that, if you aren't sure enough about what you want, there is another way that the site helps you. Rare Carat has an experienced geologist that is always available to answer your queries about the different types of diamonds.
However, if you are searching for diamonds based on ring setting, the options are limited. In addition, the price comparison is only for white or colorless diamonds. To sum up, things, if you are a no-frills and decisive buyer looking for a classic solitaire or a traditional stone, Rare Carat is the right choice for you.
How does Rare Carat help you buy the right diamonds for your needs?

Buying diamonds for your engagement ring via Rare Carat is all about having a good experience in terms of a clean, professional, unclutter, and refreshing website. Everything on this website is designed properly without the need for unnecessary tabs.
The homepage looks impressive and promising. It gives you the feeling that you are in the right place to buy a diamond for your engagement ring. The website is designed aesthetically without any kinds of heavy images or heavy texts.
As such, customers find it easy to choose the right product that suits their needs better. The interface is clean and consists of two sections. In one section, you get the option to browse through a diverse range of diamonds.
Whereas, the other section helps you start customizing the diamond you choose. Moreover, the website comes with a dedicated blog that educates customers with important information regarding diamond sizes, designs, and cuts that are trending.
Anyone visiting their website gets a clear knowledge and a definite understanding of diamonds. The blogs, infographics, and guides help customers get a sense of the clarity they need. Also, the website is equipped with a search box where you can look for answers.
Besides, the live chat option gives you access to discuss things with a gemologist. That way, you can get help on how to choose the best diamond according to your requirement. To help customers get more detailed information on the diamond they want to buy, the website features a 360-degree view of diamonds.
The developers make sure that every user visiting their website can imagine how their jewelry might look when fitted with a piece of diamond. The authorities believe that there is no point in creating a unique experience if users can't visualize the jewelry.
What sets Rare Carat stand out from the rest is that they have a separate team responsible for photography. And, they not only capture amazing pieces but also generate a 360-degree view of the same so that people can have the complete effect.
There is no denying that customers want to buy the best products when buying online. Hence, they must buy from brands whom they can trust. And, Rare Carat helps them in every possible way.
How can you buy cheap diamonds from Rare Carat?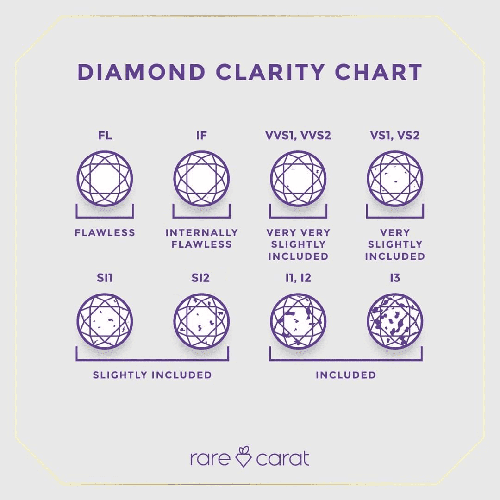 When you are looking for cheap diamonds to buy from Rare Carat, you can choose between two options. For the first option, you can take a short quiz. This option works wonders for people who are new in the area of diamonds and has little to no knowledge about the same.
The quiz asks whether customers want mined diamonds or lab-grown diamonds, what should be the carat size, the preferable diamond shape, and what the budget should be. After that, customers are asked about the quality of the diamond they are looking for.
As such, customers need to choose from high-quality, maximum size, or a balance of quality and size. Based on the data, the website displays a list containing the diamonds that meet your requirements.   This is where you can view the retailers selling the diamonds.
For the second option, you can find out some cheap diamonds by using certain filters incorporated within the website. You can filter your search through options such as free resizing, lifetime warranty, and return policy of the retailers.
The best part is that if you want the results in your inbox, Rare Carat will let you know by sending daily updates to the customers. This is another intuitive feature in case you want to buy when a new inventory is available.
How does Rare Carat work for retailers?
For retailers looking to sell their diamonds through Rare Carat, they have to go fill up an application form. This is the only way to get themselves approved as a genuine diamond seller and sell the same to the customers.
Rare Carat has a list of requirements for the retailers to get themselves included on the website. These requirements include having enough information about the diamonds and relevant certification. Also, they should have positive reviews about their diamonds.
Apart from that, the diamonds should come with a 30-day return policy in case the customer doesn't get what they expected from the product. Rare Carat follows a very stringent process to include authenticated diamond sellers on their website.
This is the reason why accept one out of five retailers apply to their website. There is no shortage of renowned diamond sellers at Rare Carat. Typically, Rare Carat earns a commission when customers buy diamonds from a listing put by one of the retailers.
That way, both the retailers and customers can get what they want in one place without looking at other places. In short, it is a win-win situation for both the retailers and buyers.
How does Rare Carat work for customers?
By now, it is clear that Rare Carat is a marketplace that doesn't sell or stock diamonds that you find on their website. People visit the platform and put a variety of metrics such as carat, shape, price, and so on to compare products from different retailers.
That way, the website provides the customers with relevant listings along with prices and reviews. Price transparency and unbiased reviews are the pillars that make the website reliable and strong. Also, the platform educates customers with free content so that they can find the shopping process easier.
What sets them apart from the others is the introduction of the chatbot named Rocky. The IBM Watson services to power this chatbot and it is intended for customers to make the buying process easy. The bot guides people and makes every experience great with unbiased transparency.
It offers useful tips to customers like that of an actual gemologist and evaluates diamonds on the basis of clarity, color, polish, depth, cut, and carat. The only purpose of Rocky is to motivate customers to get the best deals based on their input.
The technology pulls the right information from a pile of data that it has collected over time. And, that includes millions of user searches, messages that the company exchanged with customers, and millions of data points on diamond parameters and prices.
Besides, Rocky is constantly evolving and making significant improvements through machine learning. A dedicated team reviews everything that the bot encountered each day. And, they feed back the information to the IBM Watson services. As a result, Rocky helps find only the best deals for customers.
What are Rare Carat key features?
At Rare Carat, buyers get options from different retailers tailored to their specifications. Here are some features that are worth looking at.
1. Shopping experience
The website has a clean layout and all the options are structured in a good way so that users don't get confused. The instructions are understandable and you can follow on-screen options to proceed further. Everything works like a breeze. Besides, the 30-day return policy gives you satisfaction in case anything goes south.
2. Customer service
While having a great shopping experience is necessary to buy diamonds, getting remarkable customer service is equally important. Rare Carat offers three ways: through email, chat, or online.
3. Warranty
Warranties play a crucial role to ensure that the diamond you are buying for your engagement ring is authentic. That's because the diamond ring starts to wear after some time. A lifetime warranty means that your engagement ring always looks the best. However, Rare Carat doesn't provide guarantees or warranties themselves. But you can have it if the specific brand allows.
4. Pricing
Rare Carat offer diamonds at a competitive price compared to others in its class. In addition, the diamonds come with GIA certification with no fluorescence. The diamonds that you buy from Rare Carat are of the highest quality despite being cheap in some cases. Having the best collections around alongside the best warranties, getting a competitive price is icing on the cake.
What about Rare Carat business model?
Because Rare Carat's top priorities include being unbiased, they don't sell or stock their diamonds. It is an online marketplace that connects buyers and suppliers without compromising anything relating to transparency.
For any kind of sale on their website, the company doesn't receive a commission. Rather, all the revenue generated is ad-based. Apart from that, they aren't looking for high-end customers that wish to buy only the topmost gems.
Instead, their target audience is average people who are looking to get their money's worth through online shopping. Rare Carat aims to create value for the shoppers by providing price transparency without compromising on the quality of diamonds.
Also, they value recommendations from human gemologists and the buying process guided by the chatbot Rocky. Using machine learning, AI, virtual reality, and data science, Rare Carat has revolutionized the overall diamond buying process.
The main purpose of the website is to help average online shoppers make the most important decision of their lives. To provide unbiased services to its customer, Rare Carat doesn't take any kind of commission for the sales. They only charge an advertisement fee from retailers.
Although they have a valuable mission to address, there are some inconsistencies in an ad-based business. Hence, beyond paid marketing, it might be difficult for the platform to generate revenue. Despite that, the Company is moving into many opportunities.
Blockchain technologies will help customers understand the supply chain from where each stone comes into being and will lead to more transparency. Also, the company is trying to incorporate virtual reality as an extra technology.
With this technology, customers can experience the process of trying the jewelry and feel how it looks on them after buying the same. Moreover, additional Watson services might be added to the chatbot Rocky. And, that includes Watson Vision which detects gem grade reports as well.
What are the pros and cons of buying diamonds from Rare Carat?
As you know, Rare Carat receives a commission as an advertising fee from the diamond retailers. Because the website doesn't receive any kind of incentive when it comes to pushing a customer in a specific direction, it makes them an unbiased source for buying diamonds.
Rare Carat provides adequate information to customers who are shopping for diamonds for the first time. The ability to compare thousands of diamonds under one roof and show customers exactly what they want helps tremendously. It is a boon to an average buyer.
Also, Rare Carat educates customers through their website in the form of diamond buying guide blogs. This is a great place to learn everything that you need to know about diamonds, the 4Cs, different types of certifications, and many more. It is always helpful to educate yourself before buying a diamond because those tips can help you a lot in many ways.
No doubt, Rare Carat has everything that customers are looking for when buying diamonds for their engagement at the best price possible.
When you buy through Rare Carat, they act as an escrow service and will be the middle tool to do a genuine transaction. They will provide all the necessary quality assurance and tracking to make sure your purchase is 100% safe and delivered.
Is Rare Carat Reputable? 
If you are looking to buy diamonds at the cheapest price possible without compromising much on the quality, Rare Carat should be the best choice for you. It is a neat tool that helps you find the right diamond for your needs and educate you throughout the process. It is one of the most reputable fast growing companies in the world, that is changing the industry and how customer shop for engagement rings.